Guest post by Sanke Polemi
Sanke - Sanke's lucky it's not 8 EST yet, otherw
ise I'd be nowhere near this computer. As my Yankees ideally pound the Tigers, Sanke is set to sulk among his vegan conclave.


According to some reliable sources, Craig Brewer and Terrence Howard (the power team that brought us "Hustle & Flow") are working on a movie about Charley Pride. Who is Charley Pride, you may ask (if you are me)? Wikipedia answers.
Apparently he was a Negro Leagues (sidenote--is "Leagues" correct? Were there more than one league?) baseball player turned country music star. I know, right? Is this at all a common occurance?
I previously thought that only
football players
and
basketball players
turned to careers in music. This seemed like an odd discrepency to me, and then I realized something: There is no longer a Negro League (not one or any).
It's true, you can look it up. A common complaint against the integration of baseball is that many Negro League players found themselves without jobs once it was dissolved. What do you think they all did? Um, duh; they became musicians. In approximately 1951, most people agree that the Negro Leagues disbanded (thank you wikipedia). What wikipedia will not tell you is that "Knuckleball" Jay Hawkins went on to become Screamin' Jay Hawkins, and that Strike Zone Richard just went by Little Richard.
Baseball clubs are, as we know, extremely superstitious. For example: wasn't there like a thing about goats? Realizing what happened to the deposed baseball players, modern players realize that the road to music stardom is one frought with sports failure.
And some of them just need to achieve that failure without a record label's help.
Knuckleball Jay demonstrates his unusual pitching motion.
Knuckleball Jay with his Negro League World Series rings.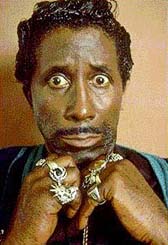 Knuckleball Jay in action, pitching to Josh Gibson in the second game of a doubleheader against the Homestead Grays on June 14th, 1937. Note the all-white uniforms Negro Leaguers were forced to wear to appease a hostile populace.